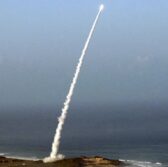 Italian defense minister Roberta Pinotti and her French counterpart Jean-Yves Le Drian have signed an agreement to facilitate collaboration on the development of the Aster 30 Block 1 NT missile.
MBDA said Tuesday France and Italy will work to update the Aster 30 missile and its SAMP/TÂ system through the cooperation arrangement pact in order to develop new functionalities against ballistic missiles.
Aster 30 is a vertically launched missile designed to meet military forces' short to long range air defense requirements and has a terminal dart equipped with a radiofrequency seeker.
"The two countries, which have carried out this program for many years, have just laid out a robust route map that will see the Aster program well into the next decade, which will help to sustain industrial know how for many years to come and which is key to ensuring French and Italian sovereignty," said MBDA CEO Antoine Bouvier.
France unveiled the Aster 30 Block 1 NT missile development program in December.