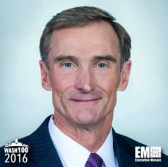 Roger Krone, chairman and CEO of Leidos, has begun to conduct town hall" meetings to brief approximately 16,000 employees of Lockheed Martin's information systems and global solutions business about IS&GS' impending merger with Leidos, Forbes reported Friday.
Loren Thompson writes such efforts by Krone, an inductee into Executive Mosaic's Wash100 for 2016, aim to explain his company's strategy behind the combination and intended work environment once Leidos and the Lockheed IS&GS segment become one organization.
Leidos agreed to merge with Lockheed's IS&GS business in January through a $5 billion Reverse Morris Trust transaction.
The transaction scheduled to close by the third quarter of 2016 aims to expand Leidos into such areas as software development, network operations, air traffic management and intelligence analysis.
Leidos expects the merger to generate approximately $10 billion in annual sales with 55 percent of revenues from customers in the national security market and 45 percent from commercial and civil sector clients, according to the report.