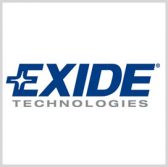 Exide Technologies has signed a five-year, $30.7 million cost-sharing agreement with the U.S. government under the Defense Production Act Title III program to automate and modernize submarine batteries manufacturing processes at a company facility in Fort Smith, Arkansas.
Under the agreement, the company will receive $18.7 million in DPA grant funds and invest $12 million to adopt new systems designed to increase production of flooded and valve-regulated lead-acid batteries for the U.S. Navy's nuclear submarines, Exide said Tuesday.
The grant is meant to help the company implement quality control, data collection and process flow automation equipment at its manufacturing facility as part of Project Neptune.
"For the past several decades, Exide has been a supplier of submarine batteries to the U.S. Navy, a business that we are proud to serve," said Vic Koelsch, Exide president and CEO.
"Through this grant, and the support from the State of Arkansas, Exide employees will be able to continue to provide premium performance batteries for use in our country's defense systems," Koelsch added.
Battery systems produced at Fort Smith can serve as an emergency AC/DC backup power on nuclear submarines and support the watercraft's communications, lighting, controls and vital life support systems, according to Exide.
Project Neptune started this month and is scheduled to be completed in August 2021.