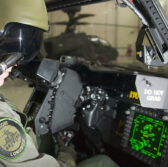 Harris subsidiary Exelis has been awarded a potential five-year, $12.3 million contract by the U.S. Navy to provide engineering services and software support equipment for multiple airborne countermeasure systems.
The Defense Department said Monday Exelis will support the Navy's AN/ALQ-165Â self-protection jammers, AN/ALQ-214 integrated defensive electronic countermeasures as well as the service branch's aircraft self-protection and software modernization projects.
Exelis will also engineer similar systems for Australia, Kuwait, Finland and Switzerland through DoD's foreign military sales program.
The Naval Air Warfare Center Weapons Division obligated $2.6 million at the time of the award from the service branch's fiscal 2016 operations and maintenance funds.
ALQ-165 jammers, built by Northrop Grumman, is designed to integrate with the F-14D, F-16 and F/A-18C/D  aircraft platforms.
Exelis designed the AN/ALQ-214 countermeasure technology for use on the F/A-18 and to help counter threats against the carrier-based aircraft.