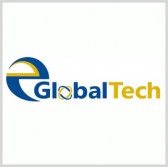 eGlobalTech has received a contract to continue its tests of the Centers for Medicare and Medicaid Services' Health Insurance Marketplace Data Service Hub.
eGT's Senior Director for CMS said in a release posted Tuesday that the data service hub works to process millions of transactions during the open enrollment period and route user information to determine eligibility.
The company will utilize its CMMI ML4 processes, testing experience and automation experience to support the CMS to meet schedule and testing coverage requirements.