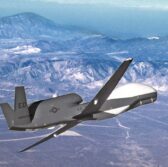 New York-based Drone USA will get exclusive rights to BRVANT Technologic Solutions"™ unmanned aerial vehicle platforms, intellectual property and research and development programs under a joint venture agreement with the Brazil-based maker of UAVs and unmanned ground vehicle systems.
BRVANT CEO Rodrigo Kuntz will also serve as chief technology officer at Drone USA as part of the agreement, Drone USA said Wednesday.
The deal will also provide Drone USA exclusive rights to export and represent BRVANT"™s drone products as well as an option to fully acquire the latter.
"We view this as an opportunity for the company to secure the latest in UAV technology and know-how without extensive research and development costs and the lengthy process that is typically required for new market introductions," said Drone USA CEO Michael Bannon.
"We intend to leverage our agreement by utilizing BRVANT"™s Brazilian operations to fulfill operational needs that are currently not being addressed by other UAV platforms."
Texas Wyoming Drilling changed its name to Drone USA in May as part of its plan to expand in military, commercial and civil defense drone markets as well as reflect its focus on the development of low-altitude UAVs.