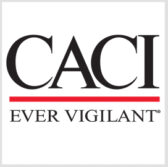 The Defense Logistics Agency has awarded CACI International a potential 39-month, $36 million contract to provide compliance and configuration management support to federal civilian agencies in support of the Defense Agencies Initiative.
The contract has an initial base period worth $11 million and includes two one-year options with an additional three-month transition-out option period, the Defense Department said Tuesday.
CACI will conduct services in Virginia with a scheduled base period completion date of June 2017, DoD added.
DoD said DLA obligated fiscal 2016 and 2017 research, development, test and evaluation funds as well as operations and maintenance appropriations.
DAI is an effort by DoD to modernize defense agencies' financial management operations — such as budget, finance and accounting — and provide accurate and reliable financial information to users.