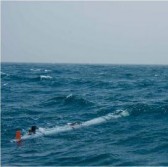 The U.S. Navy has partnered with General Motors to develop a new system that would incorporate fuel-cell technology into an unmanned underwater vehicle, Detroit Free Press reported Thursday.
Greg Gardner writes the Naval Research Laboratory has evaluated a prototype UUV that used a GM-developed fuel cell for the vehicle powertrain and added the car maker has also tested fuel-cell prototype vehicles for more than 3 million miles.
"When you look at what the Navy"™s trying to do with unmanned undersea vehicles, they"™re looking for weeks, if not months, of endurance, and therefore, we require a highly reliable system," said Karen Swider Lyons, Naval Research Laboratory head of the alternative-energy division.
The report added the team envisions unmanned drone technology for use in research or water patrol duties.