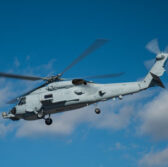 The U.S. Navy and Lockheed Martin have handed over an initial set of three Sikorsky-built MH-60R Seahawk helicopters to Denmark under a foreign military sales agreement.
Lockheed said Wednesday Denmark's unified armed forces will deploy the MH-60Rs to support maritime surveillance, anti surface warfare, force protection and utility transport, search-and-rescue, patrol and support operations across the country's borders.
Denmark ordered nine Seahawks under an FMS deal with the U.S. government to replace its military's fleet of British Lynx helicopters and expects to receive the ninth aircraft in 2018, Lockheed noted.
The U.S. Navy has used the MH-60R as its primary anti-submarine and anti-surface warfare system for open-ocean and littoral zones and found that the aircraft can also operate to support at-sea contingency operations worldwide.
Australia is scheduled to receive its 24th Seahawk helicopter later this year.