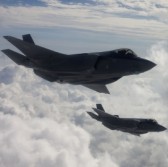 A British defense support organization has partnered with BAE Systems and Northrop Grumman to compete for the rights to be Europe's F-35 avionics sustainment hub, Defense News reported Wednesday.
Andrew Chuter writes the U.K.'s Defense Electronics and Components Agency, BAE and Northrop aim to propose a joint framework for maintenance, repair, overhaul and upgrade services provision to the F-35 Joint Program Office by August.
DECA was established in 2015 after U.K. sold most components of the state-owned Defence Support Group to Babcock International and currently provides support services for the British military's fleets of Tornado attack planes and Chinook helicopters, Chuter reports.
BAE and Northrop act as Lockheed Martin's principal partners on the fighter program.
The report said Italy, Norway, Turkey and the Netherlands have landed either airframe or engine support deals as part of U.S.' F-35 sustainment efforts in Europe.