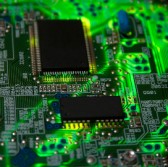 The Defense Advanced Research Projects Agency has issued a solicitation to gather research proposals for a potential five-year, $26 million program that aims to build miniaturized magnetic components for integration with electromagnetic systems used by the Defense Department.
DARPA's Magnetic Miniaturized and Monolithically Integrated Components program will focus on three technical areas, according to a broad agency announcement posted Thursday on FedBizOpps.
Those areas include the magnetic component integration on semiconductor substrates, time-dependent, non-linear magnetic phenomena modeling, and optimization of microwave, miniaturized magnetic components.
"M3IC is about distributing the magnetic functionality throughout the circuit instead of pushing it out to the edges," Dev Palmer, manager of the M3IC program, said Thursday.
"It's about designing and fabricating circuits holistically, so the designer can supercharge state-of-the-art RF electronic circuits with magnetic functionality wherever it is needed, and only where it is needed, in one monolithic chip," Palmer added.
Research proposals are due Aug. 1, according to the BAA.