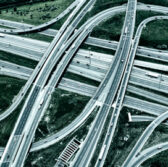 A Cubic Corp. business unit will unveil a cloud-based platform designed to manage traffic and transportation systems at the four-day ITS European Congress that will run through Thursday in Glasgow, Scotland.
Cubic Transportation Systems' NextTraffic is based on Microsoft's Azure cloud platform and works to facilitate data collection and sharing in order to help cities manage roads, transportation and other traffic elements on disparate computer networks through a single system, Cubic Corp. said Monday.
"Smart city transportation solutions have the potential to improve traffic patterns, reduce congestion, contribute to economic growth and revolutionize city planning, all while improving the quality of transportation around the city," said Toni Townes-Whitley, corporate vice president of the worldwide public sector at Microsoft.
CTS will also introduce and demonstrate NextTraffic at ITS America that will be held in San Jose, California, from June 12 through June 15.