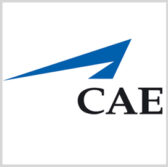 The United Arab Emirates has awarded CAE a set of contracts with a combined $111 million base value deliver helicopter simulators and develop a naval training center for the country's joint aviation command and navy.
CAE will design and develop a naval training center with ship simulation-based training suites and maritime aircraft sensor stations designed to conduct individual, team, chip and collective mission training, the company said Wednesday.
The contract to develop the center could be worth up to $345.4 million over 15 years, according to CAE.
CAE will also provide a number of helicopter simulators and training devices for the NorthStar Aviation 407 Multi-Role Helicopter and Sikorsky UH-60M Armed Black Hawk with the use of CAE Medallion-6000 image generator and Common Database architectures for the command, the company added.
Gene Colabatistto, president of CAE's defense and security group, said that the company aims to help UAE achieve a national goal to instill readiness within naval fleets.
"The UAE as well as other Gulf Cooperation Council countries are making significant investments in simulation-based training," Colabatistto said.
"These will be the first simulator and training devices developed for the 407MRH so our partnership with NorthStar Aviation along with CAE's extensive experience with helicopter simulation will help ensure we deliver world-class training systems on-schedule," he added.
CAE expects the naval training center to be open and ready for training by early 2019.