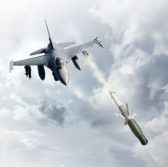 The U.S. Air Force has started to field a BAE Systems-built laser-guided rocket technology on the service branch's F-16 Fighting Falcon aircraft to support ongoing combat missions in Afghanistan and Iraq.
It marks the first time that BAE's Advanced Precision Kill Weapon System has been deployed on fixed-wing Air Force aircraft, the company said Wednesday.
"The APKWS fixed-wing fielding has been a true display of joint service and contractor teamwork to quickly deliver a capability to meet Air Combat Command fielding requirements," said David Harrold, director of precision guidance solutions at BAE Systems.
The Air Force has bought an initial supply of the rockets out of the U.S. Navy's current inventory and partnered with BAE to obtain additional units for integration onto F-16 and A-10 Warthog planes.
Harrold added the APKWS' plug-and-play feature makes it possible for military customers to use the technology on multiple aircraft platforms.
The 2.75-inch rocket is designed with a semi-active laser guidance system and has been in full-rate production over the past four years, according to BAE.