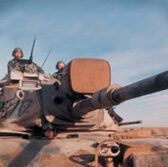 BAE Systems will lead a team comprising General Dynamics' U.K. land systems and international mission systems subsidiaries, Leonardo-Finmeccanica, Moog, QinetiQ and Safran Electronics to bid under the U.K. defense ministry's project to update the Challenger 2 main battle tank fleet.
The team will pursue a contract to update the tanks to the Challenger 2 Mark 2 design to feature thermal imaging systems, 360-degree independent surveillance for commanders, gun control equipment, electronic architecture and fire control systems, among others, BAE said Friday.
The company added the team will carry out conversion work at General Dynamics' South Wales facility, which also designs and manufactures the British army's AJAX armored fighting vehicles.
BAE designed and built the original Challenger 2 that started operations in 1998, while General Dynamics' international mission systems unit provided components for the main battle tanks.
QinetiQ will provide systems engineering support and independent assessment service including computer modelling and safety measures evaluation for Challenger 2 Mark 2.
Leonardo-Finmeccanica, Moog and Safran Electronics will supply specialist technologies as part of the bid team named "Team Challenger 2," BAE said.
The British military has set up the Challenger 2 program to support the army until 2035.