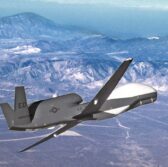 The American Institute of Aeronautics and Astronautics and Drone World Expo organizers have jointly created a contest meant to foster research into unmanned aerial systems.
The Innovative Drone Exploration and Application competition seeks to encourage  partnership between UAS end-user and aerospace communities as well as inform drone users of emerging concepts and technologies, AIAA said Thursday.
"I look forward to seeing the dynamic and innovative research produced by our community"™s members and how they imagine the future of UAS technology and use," said Richard Stansbury, chair of AIAA"™s unmanned systems program committee.
The contest will consist of two rounds where the participants will describe their research abstract and application to the UAS end-user community for the first stage.
First-round submissions to the contest will close on July 15 and Drone World Expo will pick three research entries to present during a special session sponsored by AIAA at DWE in November 2016.
A panel of experts from the AIAA USPC and DWE will select 10 semifinalists for another round of presentations and pick three winners who will proceed to the DWE session.