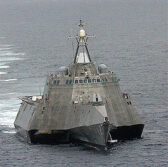 The U.S. Navy has awarded Advanced Acoustic Concepts a $27.5 million contract modification to support the mission software package for Littoral Combat Ships.
AAC will help the Navy fabricate, test, install, trouble shoot and maintain LCS mission modules, the Defense Department said Friday.
Work under the modification will occur in Maryland, New York and Pennsylvania and is scheduled to be completed by September 2017.
The Naval Sea Systems Command obligated $5.1 million from the Navy's fiscal 2016 research, development, test and evaluation, operations and maintenance and "other" procurement funds at the time of award.
DoD noted $1.7 million of the contract funds will expire at the end of the current fiscal year.