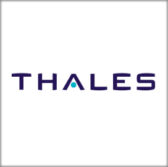 Thales has been selected to update the minehunters of Thailand's navy and provide a combat, navigation and communication suite for the client's second Krabi-class patrol vessel.
The company will oversee the design modifications, repairs, equipment purchase and platform integration for two Bang Rachan-class minehunters, Thales said Friday.
It will also equip the ships with new machinery control, navigation and communications systems, a Sonar TSM 2022 MkIII with M-CUBE command-and-control system and a signature range.
Thales added it will also provide training and logistic support to the Thai navy.
The company will also incorporate its TACTICOS combat management system and a bridge and navigation suite into a second Krabi-class offshore patrol vessel that Bangkok Dock will build for the Thai navy.
The vessel, which is scheduled for commissioning in 2018, will also feature Thales sensors including the VARIANT surveillance radar and STIR 1.2 EO Mk2 fire control radar as well as tactical data links.