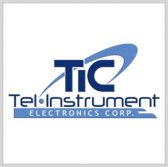 The U.S. Army has awarded a $1.3 million order to Tel-Instrument Electronics for the delivery of CRAFT 708 units with scheduled deliveries for the second calendar year quarter.
Tel-Instrument Electronics also received orders from the U.S. Navy for four CRAFT 708 test sets for the U.S. Presidential Helicopter program, Tel-Instrument Electronics said Thursday.
The company also unveiled its T-47M5 test set that looks to update existing customers' Mode 4 IFF test sets and provide features that can handle Mode 5.
Tel-Instrument Electronics offers IFF, navigation, communication, transponders and interrogator products for military and commercial aviation customers.