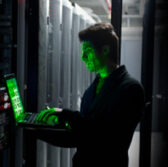 The Identity Theft Resource Center found during a study that there were 781 publicly reported data breaches across the U.S. public and private sectors during 2015.
Forty-percent of those breaches tracked by ITRC occurred in the business sector, an 8.1 percent increase from 2014 figures, the center said Jan. 25.
Healthcare organizations had the second highest percentage of data security incidents last year at 35.5 percent, followed by financial services companies at 9.1 percent, government and military agencies at about 8.1 percent and educational organizations at 7.4 percent, the report states.
Identity protection services company  IDT911 sponsored the study.
"While the overwhelmingly prevalent motive for data breaches remains financial gain for the thieves, we saw a shift in new motives for obtaining sensitive and private personal data this year," said IDT911 President and CEOÂ Eva Velasquez.
"As the motives for obtaining this data shift, so must our mindset about what we need to keep private, protect, and potentially cease capturing or creating," Velasquez added.
The report cited hacking incidents, employee error and negligence, accidental email and Internet exposure, insider theft, physical theft, third-party entities and data on the move were the common sources of compromised information during 2015.
ITRC also found 338 breaches that involved Social Security numbers and 160 incidents that involved debit and credit cards.