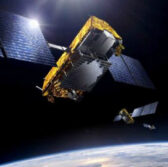 Iridium Communications remains on schedule to launch the first 10 satellites of the Iridium NEXT constellation in July aboard a SpaceX Falcon 9 rocket from Cape Canaveral Air Force Station in Florida, Space News reported Friday.
Peter de Selding writes the initial launch date may change by a few weeks based on SpaceX's availability and will be followed by six sets of 10 satellites that are expected to be deployed through Falcon 9 rockets by late 2017.
Iridium CEO Matt Desch told investors the company's current 66-satellite constellation that Iridium NEXT will replace could still operate for a number of years despite being past its retirement date, de Selding wrote.
The company aims to produce five satellites per month through prime contractor Thales Alenia Space with assembly and integration partner Orbital ATK in efforts to meet the projected 2017 completion, Space News said.