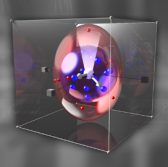 A team led by a Raytheon subsidiary will work to develop techniques that seek to extend the functionality of mobile applications for up to a century under a four-year, $7.8 million contract with the U.S. Air Force.
Raytheon BBN Technologies will collaborate with Securboration, Syracuse University, Vanderbilt University and Oregon State University on the project as part of the Defense Advanced Research Projects Agency's Building Resource Adaptive Software Systems initiative, Raytheon said Monday.
BRASSÂ aims to develop software systems that work to adapt to operating system updates and other hardware-related changes through the use of program analyses, compilation methods and runtime systems and development of semantics-based program transformation platforms.
"Mobile apps are pervasive in the military, but frequent operating system upgrades, new devices and changing missions and environments require manual software engineering that is expensive and causes unacceptable delays," said Partha Pal, a principal scientist at Raytheon BBN Technologies.
"We are developing techniques to eliminate these interruptions by identifying the way these changes affect application functionality and modifying the software."