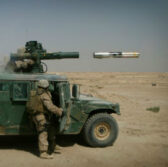 Phil Alvarez, a Raytheon official, has said the company has built a launcher system designed for tube-launched, optically tracked, wireless-guided missiles, Defense News reported Wednesday.
Jen Judson writes Alvarez, a senior manager for missile systems at Raytheon, described the TOW Eagle Fire launcher platform at the Special Operations Forces Exhibition and Conference in Amman, Jordan.
Alvarez said the digital launcher had its initial fire-test in September 2015 at Redstone Arsenal, Alabama, and is scheduled to be finished by 2018.
He told Defense News that Eagle Fire has lithium ion batteries that can last for up to nine hours and is designed to perform missile launches during the day and at night.
Alvarez also noted that the system is built to fire both wired and radiofrequency transmitter-based TOW missiles and has only five line replaceable units.
The company also announced Tuesday that the Defense Department will start deliveries of Raytheon-made TOW missiles to Jordan this year under an agreement with the Middle Eastern country's defense ministry.