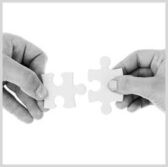 Northrop Grumman and the University of Southern California's Viterbi School of Engineering have formed a new research organization focused on optical materials and nanophotonic devices.
The Northrop Grumman Institute of Nanophotonics and Nanomaterials will facilitate collaboration between university and industry researchers in an effort to explore properties of atomic-level structures and materials, the company said Thursday.
"The creation of the institute is based on the shared recognition that technological innovation begins with fundamental science discoveries," said Tom Pieronek, vice president of basic research at Northrop's aerospace systems business.
Northrop will provide $500,000 in 2016 funds to foster interdisciplinary research that work to create new materials for optical devices.
USC Viterbi's Andrea Armani and Jesse Tice, senior scientist and nanomaterials group lead for Northrop's aerospace systems business, will lead NG-ION2 as co-directors in charge of handling projects such as studies of 2-D materials, plasmonics and nonlinear optics.
NG-ION2 will be located at the USC campus in Los Angeles.