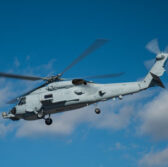 The U.S. Navy has delivered three MH-60R Seahawk helicopters to Denmark as part of the second foreign military procurement of the multi-mission helicopters built by Lockheed Martin's Sikorsky subsidiary.
The MH-60Rs were transported from Sikorsky's William P. Gwinn Airfield aboard two C-17 aircraft bound for Karup air base in Denmark, the Navy said Wednesday.
Denmark's navy will use the helicopters to replace its former fleet of Lynx helicopters and support maritime surveillance, anti-surface warfare, force protection, utility transport, border patrol and search-and-rescue missions, the service branch added.
MH-60R is also designed to transport troops, support medical evacuation, provide ship-to-ship replenishment and aid in humanitarian relief operations.
Lockheed delivered the first of nine Denmark-bought MH-60R helicopters to the Navy in October 2015 for validation tests.