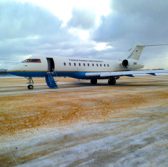 NASA and the Federal Aviation Administration have partnered to carry out a mission that saw engineers at the space agency's Glenn Research Center sent aviation data from the ground to an airplane over a wireless communication system for aircraft.

Engineers used an Aircraft Access to System Wide Information Management prototype to convey the aviation information to an FAA test airplane via a wireless communication system, NASA said Wednesday.
An FAA-owned Bombardier Global 5000 aircraft received the information through a Hitachi-developed Aeronautical Mobile Airport Communications System.
"This was the first time we provided this type of information to an airplane over a ground wireless network," said Paul Nelson, project manager for cyber security and secure communications, navigation and surveillance at the Glenn Research Center.
AeroMACS worked to provide updates to weather, airport status and flight and flow information prior to takeoff during the test completed Feb. 11.
AAtS and AeroMACS are designed to address situational awareness and human error issues through pilot access to information for decision making efforts, NASA said.
NASA added that next steps for AeroMACS will look to include end-to-end testing involving multiple airports and evaluation of security measures.