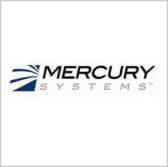 Mercury Systems has secured $4.2 million follow-on order from an undisclosed defense contractor to provide digital signal processing modules for an unmanned airborne synthetic aperture radar.
The Chelmsford, Massachusetts-headquartered company said Tuesday the order is scheduled to be delivered by the second quarter of fiscal year 2017.
Didier Thibaud, Mercury's executive vice president and chief operating officer, said the company's signal processing systems support SAR programs which work to deliver actionable data.
Thibaud added Mercury's commercially-developed modular open architecture subsystems have aided the defense contractor through a "long-standing" relationship.