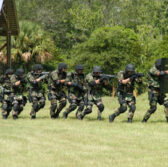 The U.S. Army's program executive Office for simulation and training has awarded Meggitt Training Systems a new $15 million second delivery order for the local and international installation of the company's Engagement Skill Trainer II system.
The company's open architecture system is designed to integrate with third-party and Meggitt's own module that works through a tablet-based coaching application to allow trainers to adapt and shift through scenarios during one training session, the company said Tuesday.
Jeff Murphy, Meggitt Training Systems president, said the Army and National Guard worked with the company to replace the current EST system with the new EST II in an effort to integrate additional training abilities by modernizing the small-arms trainer inventory.
EST II supports trainers through its distribution architecture for easy integration with other training systems, wireless tablet access, and automatic coaching capabilities, said Mark Parr, EST program manager.
Meggitt adds that the deliveries to the locations such as dedicated authoring stations are scheduled to take place between August 2016 and August 2017.
In 2014, Meggitt received a five-year contract worth at least $99 million for more than 1000 new systems to train soldiers through collective CGI and judgement video scenarios.