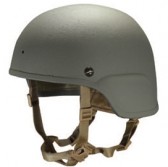 ArmorSource has been awarded a contract to produce 10,000 lightweight helmets for the U.S. Marine Corps and is scheduled to deliver the helmets in the first three quarters of 2017.
It represents the third order the company has received from U.S. government clients since January 2016, Yoav Kapah, president and CEO of ArmorSource, said in a statement issued Tuesday.
The U.S. Army recently ordered 105,000 Lightweight Advanced Combat Helmets from ArmorSource and expects the company to complete deliveries by the end of this year.
The company also received a blanket order to supply Personal Armor System for Ground Troops helmets to U.S. allies under the foreign military sales program.
ArmorSource will produce the helmets in its facility in Hebron, Ohio.