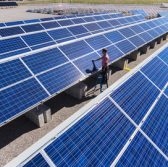 Sandia National Laboratories has received a three-year contract renewal from the Energy Department to manage regional test centers that assess the performance, reliability and economic viability of solar photovoltaic technologies.
DOE's SunShot Initiative funds the RTC program launched in 2012 that works to make solar energy have similar costs in comparison with other electricity forms by 2020, Sandia said Tuesday.
The Lockheed Martin subsidiary Sandia Corp. manages the multi-program laboratory for DOE.
"These centers help demonstrate that products perform as predicted over time and in different climates," said Joshua Stein, RTC program head.
The RTC network consists of five sites in New Mexico, Colorado, Nevada, Florida and Vermont that gather data managed through a database from PV systems installed on the sites in an effort to develop a set of processes, standards and guidelines that work to assess performance and reliability, Sandia said.
Sandia said the program currently evaluates prototypes such as c-Si PV solar cells and modules, module and submodule power electronics, bifacial modules, thin-film PV technologies, module coatings and solar resource assessment technology.