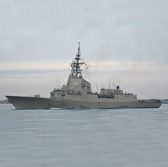 Lockheed Martin and Indra have tested a new solid-state, S-band radar system at a facility in New Jersey as part of the first phase of integration ahead of the platform's installation on Spain's future F-110 frigate.
The team combined Indra's Digital Transmit-Receive modules with Lockheed's solid-state phased array antenna to check their mechanical, electrical and thermal compatibility, Lockheed said Tuesday.
The system will work to provide Aegis air defense features for Spain's future frigates and other platforms, the company added.
Mary Keifer, Lockheed director of international Aegis and surface combat systems, said the radar system utilizes an open architecture design similar to the Aegis Combat System that will work to support U.S. Navy and Missile Defense Agency needs for technology integration.
Lockheed said the F-110 frigate will be used for the Spanish navy's operations within the next decade and will feature an "evolved" combat management system along with a new solid-state S-band radar.