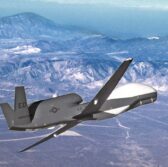 Harris Corp. and PrecisionHawk have agreed to expand their alliance in an effort to launch platforms designed to meet situational awareness and operational requirements of unmanned aerial system pilots.
The companies will use the PrecisionHawk-built Low Altitude Traffic and Airspace Safety platform to develop and deploy tools that will work to support airspace management operations for UAS through the partnership, PrecisionHawk said Tuesday.
Harris will also integrate the LATAS system with its database intended to provide pilots of manned aircraft and drones with surveillance data on manned and unmanned air traffic.
Ed Sayadian, president of mission networks at Harris Corp., said the partnership aims to build new systems that will work to address the gap between low-altitude airspace for drones and the National Airspace System.
PrecisionHawk also partnered with Boeing subsidiary Insitu to develop UAS-focused services that aim to help commercial firms meet safety requirements for unmanned flights.
PrecisionHawk also teamed up with Modern Technology Solutions Inc. and Texas A&M University at Corpus Christi in April to demonstrate the LATAS platform with four drones and two manned aircraft in a series of tests.