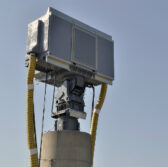 Harris Corp. subsidiary Exelis has been awarded a potential five-year, $70.3 million contract to provide 42 Precision Approach Radars to the U.S. Navy, Army and Air Force as replacements for AN-FPN-63(V) radar systems.
The indefinite-delivery/indefinite-quantity contract also includes ancillary installation, uninterruptible power supplies and training support services for the three service branches, the Defense Department said Wednesday.
The Exelis-built PAR system comprises a three-level weather display platform, a built-in-test monitoring tool and gallium arsenide-based transmit/receive modules and is designed to provide approach landing and area surveillance support around airports.
The Naval Air Warfare Center Aircraft Division awarded the fixed-price contract through a competitive acquisition process with two bids received and will obligate $6.2 million from the military branch's fiscal 2014 "other" procurement funds at the time of award.
Exelis is scheduled to complete work by May 2021.