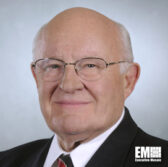 (Jack London serves as executive chairman of CACI International)
A key component of being a strong leader is exhibiting and empowering accountability. Organizations deal with a variety of challenges stemming from change, risk-taking and uncertainty. Here's one disconcerting reality: People are afraid of acknowledging mistakes, let alone reporting and fixing them.
According to a survey by Partners in Leadership, an accountability and culture change training company, there is a serious lack of personal accountability in organizations:
60% of survey respondents admitted that they saw a problem developing, but did nothing about it.
63% said they waited to see if a situation would resolve itself.
85% said they felt powerless and had no control over their situation.
Others studies have also shown that team members could see significant problems in projects, even complete failure, but felt their organization didn't empower them to speak up.
Accountability is not easy – especially if things go wrong. Remember, accountability is not about blame. Rather it's ownership over our decisions, our actions, and the consequences. This is a powerful difference!
Character-driven leaders don't want to know about a problem (or the failures to resolve them) late in the game. For them, when it's not right, be forthright. It's essential to identify and address problems early. Acknowledge the mistake as soon as possible. When necessary, apologize to the affected parties. Most importantly, fix the problem without delay. There will naturally be costs incurred; time, money and effort. However, being anything less than forthright may cost an organization the ultimate price – going out of business.
Just as project and operations managers use lessons learned to improve their performance, character-driven leaders want to learn from their setbacks. First, they will identify any other issues or potential problems before they occur. Second, they want to improve how their organization handled the problem. Finally, they may even ask the affected parties, such as their team and especially their client, if the issue was resolved to their satisfaction.
For character-driven leaders, accountability is the opportunity to do better, not just stop things from getting worse.