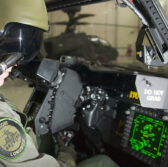 An Esterline subsdiairy has been chosen to supply a suite of avionics systems for the C-27J Spartan platform a General Dynamics-led team aims to offer to Canada's Fixed-Wing Search and Rescue program.
Team Spartan comprises General Dynamics' mission systems business, DRS Technologies and Leonardo-Finmeccanica's aircraft division, Esterline said Wednesday.
The consortium seeks to integrate Esterline CMC Electronics' CMA-9000 Flight Management System, TacView Portable Mission Display and CMA-5024 GPS Landing System Sensor into the group's search-and-rescue aircraft offering for the Canadian military.
Esterline CMC Electronics will supply the technologies to Team Spartan through an agreement with Leonardo-Finmeccanica.
The C-27J Spartan is the group's proposed SAR version of Alenia Aermacchi's military transport platform.