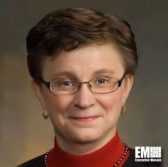 Lockheed Martin is looking to address deadline challenges in its work to integrate the Autonomic Logistics Information System to be used on U.S. Air Force F-35 fighter jets, Defense News reported Sunday.
Jill Aitoro writes Lorraine Martin, deputy executive vice president for Lockheed's mission systems and training segment, told the publication ALIS manages and fields all F-35 operations and was planned for incremental deployment to mature over time.
Martin added the system will be updated to the 2.0.2. version that will address operational capacity for Air Force operations between August and December.
ALIS has also passed more than 2,000 testing and certification processes to address safety and security concerns for every environment it will operate, the report said.