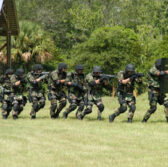 COMSAT has supported an annual military exercise between U.S. soldiers, armed forces of the Philippines and other multinational participants.
The company worked with U.S. Marine Corps Forces Pacific to integrate Inmarsat's Global Xpress for the Balikatan 2016 exercises that tackled a number of missions such as humanitarian assistance, maritime law enforcement and environmental protection, COMSAT said Thursday.
Nancy Ho, COMSAT vice president of business development and U.S. government/military operations, said the company worked to support MARFORPAC through its communication technologies designed to deliver core communications during the exercise.
The company delivered the Global Xpress terminal and acquire service for web browsing and email use to support the exercises held at Basa Air Base, COMSAT added.
COMSAT said U.S. forces commenced humanitarian civil assistance projects and combined operational events with the Philippine armed forces' three main branches to work on collaboration, partnership and plans for follow-on operations.