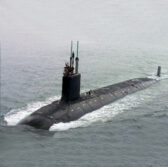 BAE Systems' contract with the U.S. Navy to manufacture and deliver propulsors and tailcones for Virginia-class submarines SSN 794 through SSN 803 has reached a potential value of $163 million with the award of a $72 million modification.
The Defense Department said Friday BAE will deliver long-lead-time materials and all related hardware for 10 shipsets and a spare under the new award.
Work will occur in Louisville, Kentucky, and Minneapolis, Minnesota, through October 2022, DoD added.
The Navy obligated $72 million at the time of award from fiscal 2015 and 2016 shipbuilding and conversion funds, DoD noted.