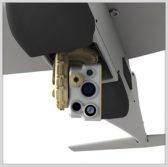 AeroVironment will display its new electro-optical/infrared gimbal payload for small unmanned aircraft systems at the annual Association for Unmanned Vehicle Systems International XPONENTIAL conference Monday through Thursday in New Orleans.
Mantis i45 is used on the Puma all-environment unmanned aerial vehicle for commercial and military applications and features a suite of sensors such as EO and IR imagers, dual-color cameras, an illuminator and an on-board image processor, AeroVironment said Monday.
Kirk Flittie, vice president and general manager of AeroVironment"™s unmanned aircraft systems business segment, said the Mantis i45 is designed as an update from previous platforms and provides users services that address ISR performance.
The company added Mantis i45 looks to provide operators an ability to identify targets and aid in target analysis, identification and distinguishing threat to friendly forces.
AeroVironment also added nighttime features from lol-light near-infrared to long wave infrared imagers as well as backward-compatible, waterproof payload that operates under harsh environmental conditions.