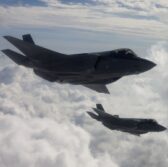 A United Technologies Corp. subsidiary has awarded four Italy-based aerospace suppliers potential 10-year manufacturing contracts worth an estimated $17 million for the production of F135 engine components.
Pratt & Whitney has selected Aerea, APR, Mepit and NCM to manufacture the engine components that will be integrated with the Lockheed Martin-built F-35 Lightning II fighter aircraft, Pratt & Whitney said Thursday.
Cliff Stone, vice president of business development for Pratt & Whitney's military engines business, said the company used a "best-value" model to select the suppliers.
"These awards directly support our goals for F135 industrial participation with small and medium enterprise suppliers," he added.
Pratt & Whitney noted that it has signed an estimated $22 billion worth of contracts with nearly 800 product suppliers worldwide for commercial and military engine production.
It has so far delivered 266 F135 engines for the F-35, the company said.
Italy is one of the partner nations in the international F-35 program and plans to procure 60 F-35A and 30 F-35B aircraft to replace the country's fleet of Panavia Tornado, AMX and the McDonell Douglas-built AV-8B Harrier II.