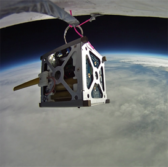 United Launch Alliance has started the application process for a competition that aims to provide U.S. colleges and universities a chance to build payloads for ULA's CubeSat rideshare program.
ULA said Thursday that Tyvak Nanosatellite Systems will help evaluate and pick schools that can get free science, technology, engineering and math payload rides on Atlas V rockets as part of a partnership deal the companies forged in February.
A panel of ULA and Tyvak judges will review rideshare proposals against criteria such as mission objectives, technology development schedule and technical requirements.
"Our goal is to eventually add university CubeSat slots to nearly every Atlas and Vulcan Centaur launch – with potential for 100 rides per year," said Tory Bruno, ULA president and CEO.
According to Boeing and Lockheed Martin's joint venture, CubeSats typically weigh up to 3 pounds and are generally used alongside university-led educational projects.