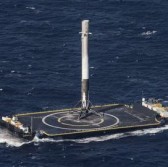 A SpaceX-built Falcon 9 rocket completed a take-off and vertical landing operation on a drone ship at sea Friday after the rocket launched SpaceX's Dragon spacecraft to transport 7,000 pounds of cargo to the International Space Station, Space.com reported Friday.
Calla Cofield writes Falcon 9 took off from Cape Canaveral Air Force Station in Florida and descended on a floating drone vessel for possible reuse.
Hans Koenigsmann, vice president of mission assurance at SpaceX, told reporters at a NASA press conference that SpaceX plans to conduct landings at sea in its next two to three space launch missions, according to the report.
SpaceX launched the Dragon space vehicle onboard Falcon 9 to perform its eighth cargo delivery mission under the Commercial Resupply Services contract with NASA.
The operation marks the first time SpaceX's Falcon 9 rocket performed an ocean landing and the second time it returned to Earth following a launch.
The ocean landing comes four months after the rocket landed at a ground site in Cape Canaveral following the launch of 11 ORBCOMM-built OG2 satellites into space in December.