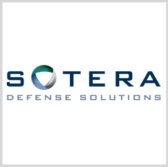 Sotera Defense Solutions has been awarded a three-year, $16 million task order from the U.S. Army for technical, engineering and management services to the branch's Communications-Electronics Command Software Engineering Center.
The company said Tuesday it will support the Defense Readiness Reporting System-Army and also carry out design, development, integration, test and documentation work.
Herndon, Va.-based Sotera will also provide logistics, training and administrative services for both the hardware and software of the system.
Deb Alderson, Sotera president and CEO, said the DRRS-A works to provide force readiness information gathering, analysis and sharing.
The Army awarded the order through the Software and Systems Engineering Services Next Generation contract vehicle's unrestricted portion.