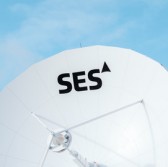 SES Government Solutions has received two follow-on contracts from the U.S. Army's Intelligence and Security Command to provide satellite services for a global network used to transmit voice, video and data.
Reston, Virginia-based SES GS said Thursday it will support the TROJAN Network that includes terminals and ground infrastructure for uniformed Army personnel and decision makers at the service branch.
The Army awarded both five-year contracts as blanket purchase agreements and the company first was selected to support TROJAN in 1998.
Neither BPA contains a minimum guarantee for bandwidth but the contracts have a target of at least 400 megahertz.