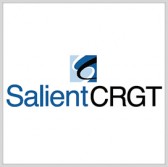 Fairfax, Virginia-based government technology services contractor Salient CRGT has received a $16.8 million contract from the U.S. Courts administrative office's technology solutions office for research and engineering support services.
Salient CRGT said Tuesday the company will also provide IT architecture work to support the administrative office's tasks that include legislative, legal, financial, technology, management, administrative and program support services.
U.S. Courts awarded the twelve month contract with four one-year option periods and one six-month option that commenced on January 11 ,2016.
Salient CRGT offers agile software development, command and control, cyber security, data analytics and big data, enterprise IT and mobility, infrastructure optimization, legacy IT transformation, training and user experience design services to its federal civilian, defense, homeland and intelligence agency clients.