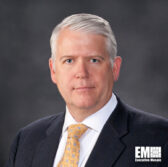 Rick Ambrose, executive vice president of Lockheed Martin's space systems division, considers the convergence of commercial and defense systems as a necessary step in fulfilling the future needs of government for space systems, Space News reported Monday.
Ambrose told Space News' Mike Gruss that the company currently develops high-throughput satellites and payloads, which he says are "the same as some of the attributes that the government is looking for in the future."
According to the report, Ambrose said that the convergence of commercial and defense systems will also aid Lockheed Martin in deciding what technologies to invest in.
Ambrose cited the company's past efforts to modernize the A2100 satellite bus and establish two payload centers for electro-optical and radio-frequency payloads, Space News reports.
Lockheed currently builds government and commercial satellites in Denver, Colorado and Sunnyvale, California and serves as the U.S. Air Force's contractor for global positioning system, missile warning and protected communications satellites, Gruss reports.
"In the future we can be extremely smart buyers of payloads and capacities, and pick out the real talented attributes," Ambrose told Space News, adding that he hopes to pull that talent from Silicon Valley.