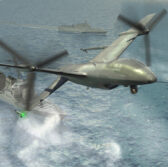 Moog has been awarded a subcontract by Northrop Grumman to manufacture a flight control actuation system for the Tactically Exploited Reconnaissance Node program jointly run by the Defense Advanced Research Projects Agency and the Office of Naval Research.
Moog said Wednesday the contract requires initial delivery of flight control actuators, actuator-control electronics and accessories for the full-scale demonstration UAS within 12 months following the award.
Northrop is the prime contractor of the Tern project to develop an autonomous, unmanned, long-range ISR and strike system that operators can deploy and recover using small-deck naval ships.
Moog added that its flight control system works to support Northrop's goal of integrating vertical take-off and landing with cruise flight functions.
Moog will also develop flight software under the program.