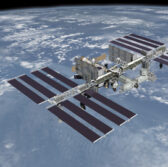 NASA will launch the SpaceX Dragon spacecraft aboard a Falcon 9 rocket on Friday to deliver 7,000 pounds of science experiments, crew supplies and hardware to the International Space Station as part of the eighth Commercial Resupply Services mission.
The agency said Wednesday the SpaceX Falcon 9 rocket is scheduled to lift off from Space Launch Complex 40 at Cape Canaveral Air Force Station at 4:43 p.m. Eastern Time.
The resupply mission also involves the delivery of the Bigelow Expandable Activity Module, which will be installed onto the station to test expandable habitat technology in microgravity, NASA added.
The spacecraft is expected to arrive at the ISS on April 10 and will be captured by NASA astronaut Jeff Williams and European Space Agency astronaut Tim Peake using the station's robotic arm, the agency noted.
The Dragon spacecraft will return to Earth on May 11 carrying biological samples from astronauts, including those collected from NASA's one-year mission as part of efforts to study muscle atrophy and bone loss in space and help develop new drugs against diseases.