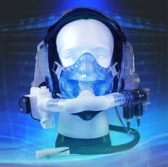 NASA's Glenn Research Center has awarded its first commercial license to AirFlare under the space agency's startup support initiative, allowing the company to sell a Glenn-patented health monitoring headgear.
NASA said Tuesday Glenn originally developed the Portable Unit for Metabolic Analysis technology to track astronauts' oxygen consumption and carbon dioxide production rates during exercise.
Under Startup NASA, Tennessee-based startup AirFlare will work to further develop PUMA to provide laboratory-grade biometric data directly to users, including athletes and fitness enthusiasts, the agency added.
"For decades, high-quality metabolic data has been out of reach for most dieters and recreational athletes," said AirFlare CEO Daniel Lawhon.
Lawhon said the company will work with NASA to give customers added control over their health and fitness using a portable device.
"It is always exciting to see the technology the center has invented being transformed into economic and business opportunities," added Kim Dalgleish-Miller, chief of Glenn's technology transfer office.
Through the agreement, AirFlare will facilitate public access to PUMA, which is a wearable device that works to synchronize with mobile devices and provide fitness information and a range of training and dieting metrics.
Startup NASA is part of the space agency's Technology Transfer Program and aims to allow startup companies to create products and services from more than 1,200 patented NASA technologies without initial fees, the agency noted.