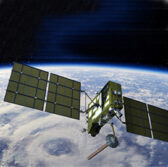 NASA is asking industry for ideas on how to build satellite technology for advanced communications, imaging and robotic science exploration as part of the agency's Journey to Mars project.
The agency said Friday it aims to launch a Mars orbiter sometime in the 2020s that will work to facilitate bandwidth communications, high-resolution imaging and radio-frequency data transmission.
"Currently, we depend on our orbiting science missions to perform dual service in making measurements and acting as communication relays, but we can"™t depend on them to last forever," said John Grunsfeld, a NASA astronaut and associate administrator of the agency's science mission directorate.
"Our success in exploring Mars, to unravel the mysteries of the Red Planet, depends on having high bandwidth communication with Earth and overhead imaging," Grunsfeld added.
NASA' Jet Propulsion Laboratory oversees pre-formulating planning for the initiative and plans to award up to $400,000 for each concept study that a chosen contractor will perform over a four-month period.
The agency said it is examining how to implement the Mars orbiter mission in partnership with international organizations.